Wireless Remotes
Pump Parts Plus, Inc. is an official distributor for Microtronics, Inc. wireless remote controls.

2.4 GHz Horizontal Bang Bang Joystick
Enclosure: Die Cast Aluminum
Color: Yellow or Gray
Decal: Customizable
Switch: Environmentally Sealed, 2, 4 or 8 Way Bang Bang Joysticks
Dimensions: 6 7/8" L x 3" W x 2 1/4" D
Antenna: External 2.4 GHz
Weight: 3 1/2 lbs.
Address Code: 4.2 Billion
Operating Temp: -20c to +50c
Range: 300 ft.
Frequency: 2.4 GHz FH/DSSS
Power Source: 9 Volt Battery
Current Draw: 20 Milliamps
Output Controls: 1-16 Outputs
Seal: Oil and Petroleum Resistant Neoprene Rubber Gasket
Standard Features: Power Switch, Emergency
Stop Switch, Customizable Decal,
Control Guard Set, Neck Strap, External Antenna
Options: Belly Strap, Cab Clip

We also carry membranes for line pumps (also shown below).

Please call 1-800-567-7400 for a quote.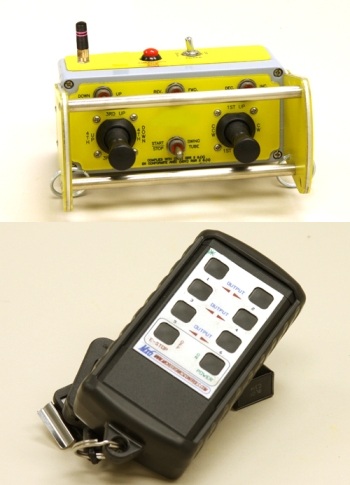 Click on a part number for additional information.
Remtron Pump Boss II
Remtronâ"¢ Pump Boss II Provides a wireless remote control for concrete pumping that enables direct and immediate control of the pump from the point of delivery. HIGHLIGHTS Rugged and reliable system with less downtime IP67 enclosure ensures durability from the elements Battery life offers more than 130 hours of continuous operation Can be configured with a RAC16 programmer, setting the system address and frequency Autolink feature allows the receiver to "learn" the ID code from the controller for easier configuration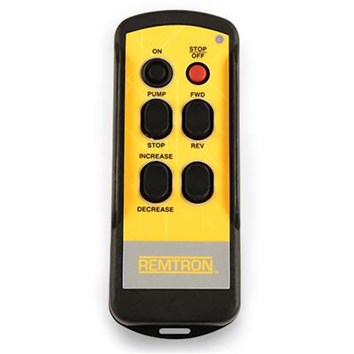 Click on a part number for additional information.