Wireless Remotes
Pump Parts Plus, Inc. is an official distributor for Microtronics, Inc. wireless remote controls.

2.4 GHz Horizontal Bang Bang Joystick
Enclosure: Die Cast Aluminum
Color: Yellow or Gray
Decal: Customizable
Switch: Environmentally Sealed, 2, 4 or 8 Way Bang Bang Joysticks
Dimensions: 6 7/8" L x 3" W x 2 1/4" D
Antenna: External 2.4 GHz
Weight: 3 1/2 lbs.
Address Code: 4.2 Billion
Operating Temp: -20c to +50c
Range: 300 ft.
Frequency: 2.4 GHz FH/DSSS
Power Source: 9 Volt Battery
Current Draw: 20 Milliamps
Output Controls: 1-16 Outputs
Seal: Oil and Petroleum Resistant Neoprene Rubber Gasket
Standard Features: Power Switch, Emergency
Stop Switch, Customizable Decal,
Control Guard Set, Neck Strap, External Antenna
Options: Belly Strap, Cab Clip

We also carry membranes for line pumps (also shown below).

Please call 1-800-567-7400 for a quote.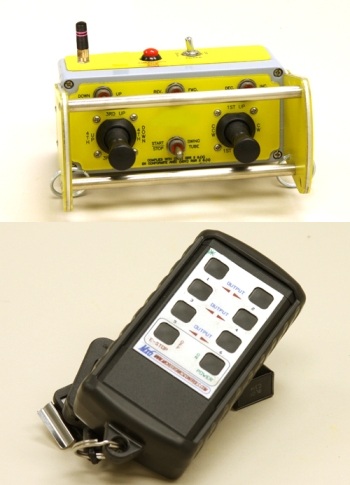 Click on a part number for additional information.